Every catfisherman has heard the name "Ugly Stik" at some point in time. They have been a favorite to catfish anglers for a long time and well known as "unbreakable". Shakespeare has many types and sizes of ugly stik rods to choose from but they all share one thing in common,,, the blank construction.
One of the most popular Ugly Stik's to Catfishermen is the Ugly Stik "TIGER"
In 1985 Shakespeare introduced the new Ugly Stik Tiger rods. Tigers come in a variety of line and lure weights, actions are,,, med light, medium, medium heavy, lengths are 6.6 7.0 and 8.0 , one piece and two piece models.
Tigers come with Fugi graphite reel seats with stainless steel hoods, EVA foam handles with three different styles of end Caps. Blank through handle design. Double footed Stainless steel guides. The length of the handle is absolutely perfect for fighting big cats.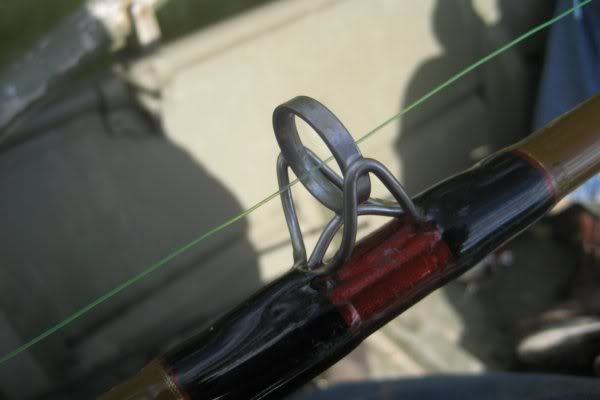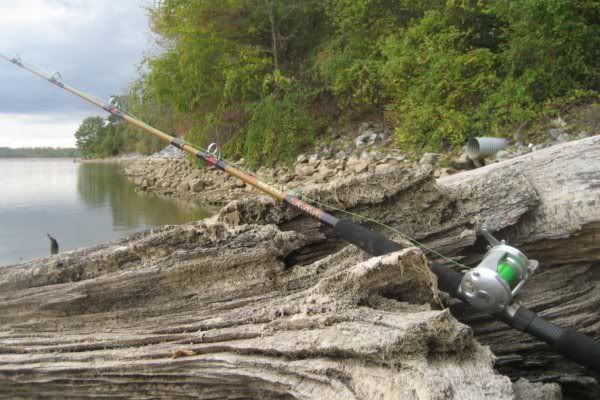 Shown above Top is the stainless steel guides the Tigers use, no inserts. What makes these guides strong is the bridge support brace that holds the bottom of the ring and the double foot.
Above bottom is the 7'0" med action 2 piece Tiger with an Abu Garcia 6500c3 reel.
Ugly Stik Tiger blanks are made using the, patented Howald process. This process basically builds TWO different types of blanks into one. The inner blank and an outer blank. The inner blank is made from spiral wrapped graphite fibers giving the rod sensitivety and the well known fighting power of the ugly stik. The outer blank is more of a layer of longitudinal E-Glass fibres. These combined give the Ugly Stik its flexibility and strength.
Listed are all the Ugly Stik Tiger Models along with each models specs;
Model # Length Pcs Handle Action Lb.Test Lure Wt. Oz. Guides
BWS 2200 70 7'0" 1 B ML 12-30 1/2-4 6 + Tip
BWS 2201 70 7'0" 1 B M 20-50 3/4-6 6 + Tip
BWS 2201-2 70 7'0" 2 B M 10-50 1/2-6 6 + Tip
BWC 2201 66 6'6" 1 B M 15-40 3/4-6 7 + Tip
BWC 2200 70 7'0" 1 C ML 12-30 1/2-4 8 + Tip
BWC 2201 70 7'0" 1 B M 20-50 3/4-6 8 + Tip
BWC 2201-2 70 7'0" 2 B M 10-50 1/2-6 7 + Tip
BWC 2202 70 7'0" 1 B MH 30-60 3/4-8 8 + Tip
BWCA/O2201 70 7'0" 1 B M 20-50 3/4-6 8 + Tip
BWCA/O2202 70 7'0" 1 B MH 30-60 3/4-8 8 + Tip
BWD220080 8'0" 2 A ML 12-30 1-4 8 + Tip
My flathead rods are the 7'0" 1 piece Med Heavy action rods. This model is a very stout rod with a fast tip, and can handle all the abuse you can give it. Great for pulling flatheads out of snags.
The 7'0" 2piece med action Tiger is another great rod that could be used for a variety of different fish. This Model has great castability, nice soft tip, but still has the backbone and strength to bring in a monster cat.
All the Ugly Stik Tiger models are great rods for the money and each model has its own purpose.At about $55 bux a rod and a 60-day/5-year limited warranty it would be hard to beat this rod.
Check out these links for more info on a great Catfishing rod;
http://www.shakespeare-fishing.com/
http://www.catfishconnection.com/
http://www.cabelas.com/